The Best Option For Pest Control In Greater Northdale, FL
Everyone in Northdale wants to spend more time outside enjoying the weather and less time worrying about things like pest control. If you're the same way, you'd rather spend your time golfing, fishing, or relaxing at the beach than worrying about bugs in your home or office. Call us at EcoTech Pest Control Services and let us help take your mind off bugs.
Locally-owned and -operated, we have been serving the greater Northdale area for almost ten years.
Our commitment to serving the Northdale community includes:
Professional technicians who are drug-free and background checked.

Monthly training for our technicians to keep them up-to-date on the latest pest control techniques.

No overscheduling; our technicians will take their time at each service appointment.

Membership in both the National Pest Management Association and Florida Pest Management Association.
We know that pests can be a major headache, and it is our goal to provide the best possible pest control services in Hillsborough County to keep your property safe and pest-free.
Home Pest Control In Greater Northdale, FL
Your home is where you spend most of your time. Maybe you enjoy a barbeque with friends, playing outside with your kids, or relaxing on your patio after a long day. Whatever you do at home, nothing ruins it more quickly than a pest problem. From mosquitoes in your backyard to bed bugs in your house to everything in between, EcoTech Pest Control Services takes pride in solving your pest problems quickly to get you back to making memories at home.
When you call EcoTech Pest Control Services, for residential pest control in Greater Northdale, your satisfaction is our priority. We will inspect the interior and exterior of your home and your yard and provide you with a detailed report of the inspection and services provided. Each treatment plan uses Integrated Pest Management techniques to use the most eco-friendly home pest control treatment plan for each situation, limiting your family's exposure to harsh toxic chemicals. And if pests come back between scheduled visits, we'll come back and take care of them.
Four Bed Bug Control Solutions For Greater Northdale Residents
Most people only think bed bugs are a problem at old, run-down hotels or used mattresses bought at garage sales. Unfortunately, bed bugs can be a problem in any home, no matter how clean. Bed bugs can hitchhike their way into your home on any type of fabric, including that new shirt you just bought from the department store, the pants you wore to the office, or the bag you took on vacation. You can help prevent bed bugs using these four bed bug control tips:
1. Immediately wash any new clothing in hot water or treat it with steam.

2. Clean and vacuum high traffic areas of your home and business frequently.

3. Regularly wash your pet's bedding and inspect areas where they lay for signs of bed bugs.

4. When buying new furniture, thoroughly inspect it before bringing it into your home, paying particular attention to the seams and edges. Treat any new furniture with a garment steamer to kill any bed bugs you may not see.
If you do have a bed bug problem, call us right away. Because your satisfaction is our priority, all of our bed bug treatments in Greater Northdale come with a 30-day guarantee. If you find bed bugs in a previously treated area within 30 days, we will come back and treat them again at no additional charge.
Are Termites Destroying Your Greater Northdale Home?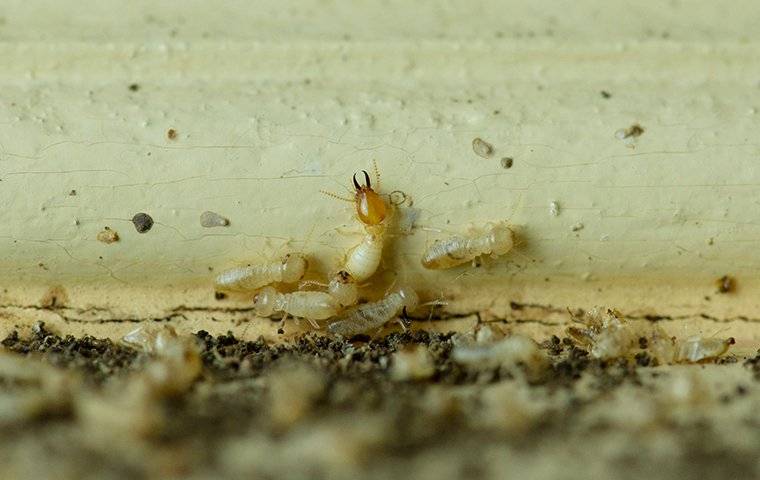 No pest causes more significant problems for homeowners than termites. Nicknamed the "silent destroyers," termites cause an estimated five billion dollars in damage annually. The worst part? Depending on your insurance, termite damage may not be covered. If you are worried about termites destroying your home, these are some signs to look for:
Mud tubes around the exterior of your home's foundation

Termite excrement called "frass", resembling piles of sawdust

Uneven or bubbling paint

Wood that sounds hollow when you tap on it
If you see any of these signs, contact us right away. We will provide a free termite inspection, determining the species of termite and the extent of the problem. We will then recommend a treatment plan to best eliminate these damaging pests.
You can have confidence knowing our work is backed by our Annual Termite Protection Plan, which includes continued inspections and a re-treatment guarantee. Call us today to learn more about our Greater Northdale termite treatment plans and how we can help protect your home from these destructive pests.
Commercial Pest Control In Greater Northdale, FL
If you own a business, you do everything you can to keep that business running smoothly. At EcoTech Pest Control Services, we specialize in pest control at the following types of facilities:
Healthcare/assisted living

Food and beverage processing

Schools and educational facilities

Government buildings

Property management

Warehouses
When you call us for commercial pest control in Greater Northdale, we will inspect your business and identify the types of pests that may become a problem, and create an individual treatment based on your business's needs.
As a commercial customer of EcoTech Pest Control Services, you can access our 24/7 emergency response service. When you call, we guarantee a response in two hours and an on-site solution within six hours. EcoTech Pest Control Services knows the last thing you need to worry about when running your business is pests, and we strive to eliminate that worry for you.