Pest Control In New Port Richey, FL
Anyone who has ever visited New Port Richey knows it's a beautiful place. The flora and fauna are amazing, and the weather is perfect for outdoor activities nearly year-round. However, living in paradise comes at a price: pests.
Many pests call New Port Richey home, and they can wreak havoc on your property if you're not careful. Termites, for example, can cause extensive damage to the structural integrity of your home if left unchecked. Other pests, like roaches and ants, can contaminate your food and spread disease.
Luckily, EcoTech Pest Control Services can help with Pasco County pest control. We offer all-inclusive residential and commercial pest control services that'll take care of any current infestations and help prevent future ones.
Protect your peace of mind and property by contacting us today for a free consultation.
Residential Pest Control In New Port Richey
Like master criminals, pests are always looking for a way to break into your home. From rats and mice to ants and roaches, several pests would love nothing more than to make your home their own. And once they're inside, they can be tough to eliminate.
While some individuals may find pet rats and other pests charming, the truth is that they pose a significant health risk to you, your family, and your pets. Many pests carry diseases that they can spread to humans, and some, like rats, can even cause fires by chewing through electrical wiring.
It's vital to take action as soon as you see signs of pests in your home. The longer you wait, the more difficult it'll be to get rid of them.
And, if you have young children or elderly family members living with you, it's even more important to take quick action, as they can be more susceptible to the diseases that pests carry.
EcoTech Pest Control Services offers comprehensive residential pest control services in New Port Richey that'll eradicate any critters that have made their way into your home.
We understand your home is your safe haven - contact us to learn more about our home pest control and how we can help you keep it pest-free.
The Trick To Spotting Signs Of Termites On Your New Port Richey Property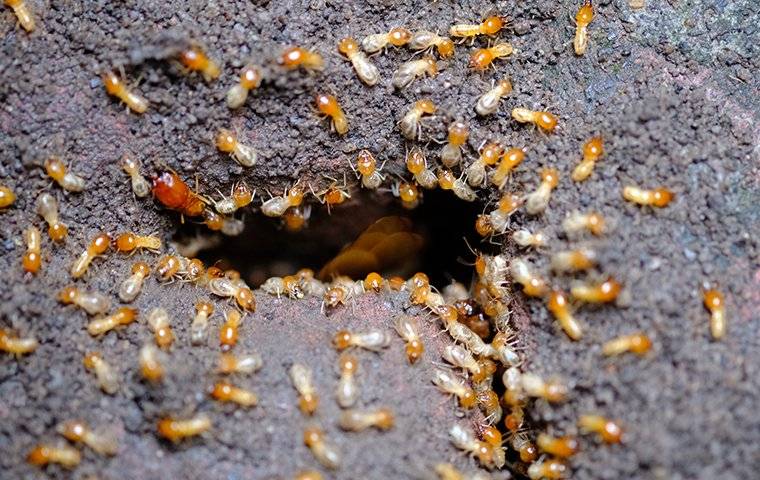 As the saying goes, "An ounce of prevention is worth a pound of cure." This could not be more true when it comes to termites, as preventative maintenance is the key to avoiding extensive and expensive damage.
One of the most important things you can do to protect your New Port Richey home or business from termites is to be vigilant about spotting signs of an infestation. Unfortunately, these little pests are experts at hiding, making them difficult to spot.
Here are a few signs that you may have termites on your property:
Live termites: If you see live termites on your property, it's a good indication of a termite problem. These pests are usually only out in the open during the swarming season.
Mud tubes: Mud tubes are another telltale sign of termites. Termites make these tube-like structures to protect themselves from the sun as they travel between their nests and food sources.
Damaged: If you see damage on your property, it's a good indication that you have termites. Unfortunately, termites damage wood from the inside out, so the damage they cause is usually not visible until it's too late.
Swarmers: Swarmers are winged termites who leave the nest to mate and start new colonies. If you see swarmers on your property, it's a good sign of a termite issue.
If you spot any of these indications on your property, call EcoTech Pest Control Services right away. We'll send our well-trained, highly experienced New Port Richey termite control technicians to conduct a thorough inspection of your property.
And, if there's a nest on your property, we'll tirelessly work to eradicate it. Call us today to get started.
Are Bed Bugs In New Port Richey Dangerous?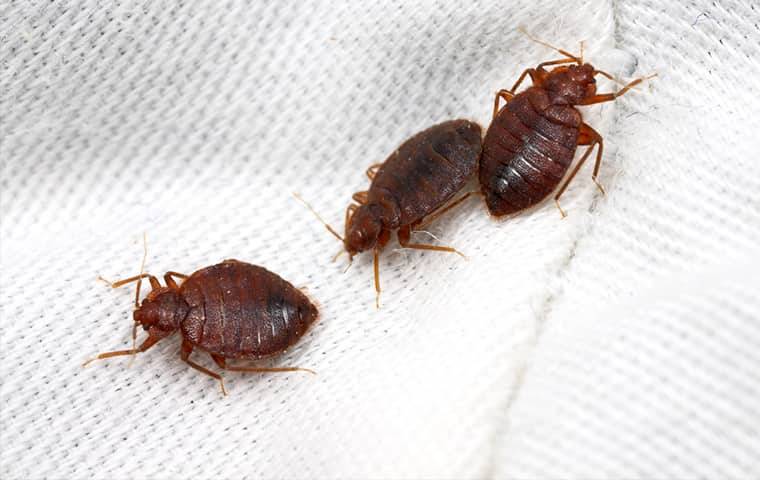 Bed bugs. These tiny, parasitic insects feed on the blood of humans and animals. They're most active at night and usually bite people while sleeping. Although bed bugs aren't known to transmit diseases, they can cause some health problems, including:
Skin rashes
Allergic reactions
Psychological distress
Anemia
Excessive scratching
Loss of sleep
Most DIY bed bug pest control products are ineffective against bed bugs and can even be dangerous. If you think you have bed bugs, call EcoTech Pest Control Services ASAP.
We use EPA-approved, effective treatments that are safe for your family and pets. We get rid of the bed bugs and also prevent future infestations.
Don't wait until it's too late; call us today and get started on our effective New Port Richey bed bug control services.
Commercial Pest Control In New Port Richey
Building a successful business from the ground up takes time, energy, and money. On the other hand, losing it all to pests can happen in the blink of an eye.
At EcoTech Pest Control Services, we believe you deserve more than a simple, standardized solution to your pest problems. That's why we work harder than our competitors to craft a detailed pest control plan tailored to your business's specific needs.
When you pick our commercial and residential pest control services, you receive service backed by our rock-solid guarantees:
Protecting your employees, reputation, and brand.
Protecting the integrity of your products, services, and facilities.
Reducing pesticide use and risk.
Exceeding your expectations.
When looking for a dependable New Port Richey commercial pest control service, settle for nothing but the best. Contact us today if you have any questions about our commercial and home pest control prices or schedule a free inspection.