Sometimes you just have to hit the reset button on pests. There is no better way to do that than fumigation. What is fumigation? It is the use of gas to eliminate pests in the tiny cracks, gaps, and pores where they hide. Gas doesn't have the limitations of sprays and bug bombs. It works its way into every hidden space inside the structure and gets to even the most elusive pests, like termites and bed bugs! But fumigation isn't the first resort for most pest problems. It is what you use when you've had enough. Today, we'll give you a quick introduction to fumigation services in Tampa. We'll look at when and why it is the best option, what you can expect during the fumigation process, and what is required to do the job right. If you know you need fumigation and you're ready to get started now, contact us. EcoTech Pest Control Services provides expert fumigation pest control in Tampa, Florida. We'll guide you through the process from start to finish and take care of all the heavy lifting. We have the experience and expertise to get the results you want. With that said, let's dig in and look at what you need to know most about fumigation services.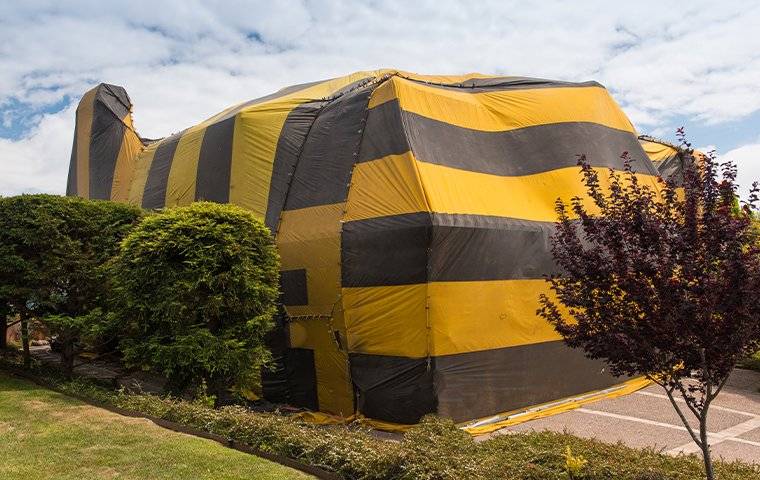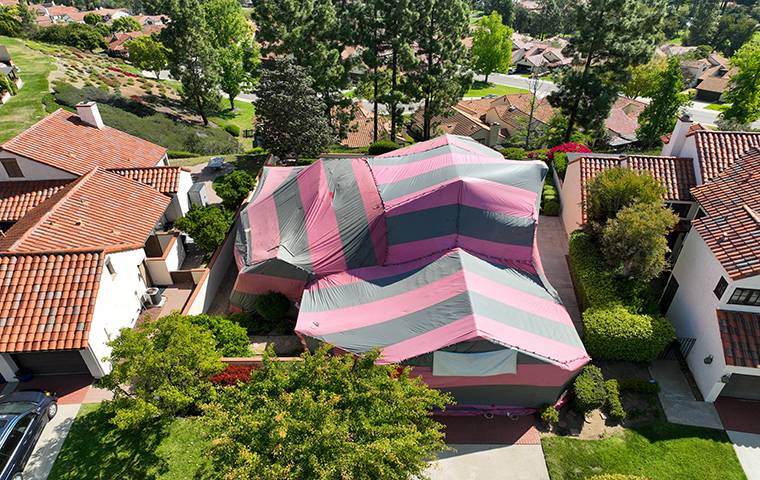 Fumigations Are A Serious Affair: When And Why It's Necessary
As we pointed out above, fumigation isn't the first resort. Why? Because it isn't cheap. There is a lot that goes into preparing and tenting a structure, which is needed when applying fumigant gases. That's why it is most often used when pests are out of control and widespread. But you don't have to wait until you're overrun with pests in Tampa for this option to become viable. There are other reasons to select fumigation.
When Pests Are Dangerous: The level of control must always match the level of threat. Fumigation is often applied when pests are hazardous to human health and complete control is a requirement for residents or employees.
When Pests Are Hard To Reach: Some pests are annoyingly hard to eliminate because they hide inside the pores of wood timbers. In our area, drywood termites are the pests we're most likely to address with fumigation. Termite fumigation is a fast and effective way to reduce the number of drywood termites to zero.
When Dealing With Pests In A Large Facility: Pest control in large facilities can get complicated and overwhelming. Fumigation is able to address all pests across the board and it removes the need for many overlapping control solutions.
Proactive Pest Control: When a structure is constructed and employees are ready to move in, a fumigation can get things off on the right foot. It reduces pests to zero and allows for easy implementation of ongoing and sustainable pest management without unwanted surprises.
Food Supply: When food products are shipped, certain regulatory standards must be met. Fumigation addresses pests without harming the products being shipped and is often the best solution.
Keep in mind that not all fumigations require tenting a structure. We also perform value fumigations for smaller issues, such as treating furniture that has termites or bed bugs hidden inside. If you're curious whether or not fumigation is right for your needs, feel free to ask. You can easily connect with us through our contact page for details and service options for your Tampa home or business.
About The Fumigation Process: What To Expect
How does fumigation work and what can you expect when you have a fumigation treatment performed? Are there things you need to do and how will it impact your life? There are a few basic steps you can expect with every full-structure fumigation. Let's quickly run down through them.
There is prep work before your fumigation. Your fumigation preparation is made easier by the checklist we provide. Don't worry. We guide you step by step.
Before the fumigation, we'll perform an inspection to make sure everything is ready to go. We'll check on essential checklist items, such as the removal of pets and plants.
During the fumigation, you'll need to be somewhere else. A fumigation may take a few days, so you'll need to set up hotel accommodations or stay with a friend or family member.
During the fumigation treatment, we will tent the entire structure and create an airtight enclosure. Our licensed technicians will follow all protocols to deploy the gas in a controlled manner and monitor the treatment.
At the conclusion of the treatment, the fumigant concentration is reduced and we begin the process of airing the structure. Then, we remove the tenting.
Once we're done, you're free to return. Upon your return, some clean-up is necessary. You'll want to clean up pests that were eliminated during the process and wipe down surfaces, cabinets, doorknobs, etc. Fumigation takes some work on your part, but keep the benefits in mind. When harmful pests, such as rats, mice, and cockroaches invade, they can make you very sick. Your fumigation treatment will get rid of them entirely.
Now you know a bit more about the fumigation process, when it is best to use fumigation, and what you'll have to do on your end, but we're not quite done. Let's take a look at why it is essential to choose the right company to tackle your fumigation for you. As we're sure you know, not all companies are created equal. Your results will vary greatly.
Expertise Matters: Trust Us To Get The Job Done Right!
The gases used for fumigation treatments are hazardous not only to pests but to humans as well. Your pest control service provider must use strict protocols and follow the letter of the law. When preparing for your treatment, there are key steps to follow. You want a company with the experience needed to guide you every step of the way and help you avoid any potential pitfalls. When you return home, there are things you should do to make your return comfortable. Your service provider can make this transition easy.
EcoTech Pest Control Services is the right choice for fumigation services in Tampa. Our team has the experience and professionalism to provide home and business owners with advanced fumigation treatments. We help you navigate the challenges and make the process as smooth as possible from start to finish. If you'd like answers to specific questions, connect with us. We're here to give you the support you need.
After Fumigation: What To Do Next
If you invest in pest control fumigation, you want to be done with those pests. You don't want them returning the next week or the week after. So, how do you keep pests out for good? It depends on whether or not you are a homeowner or a business owner.
Are you a homeowner? We offer customizable residential pest control service plans to help you deal with pests in every season all year long. These plans include spot treatments to reduce pests around your home, liquid treatments for your foundation and exterior walls, general pest maintenance around your home, and targeted treatments to address pest problems as they arise. These work together to keep pests from entering your home.
Are you a business owner? We use the same process to keep pests out of businesses. During your routine visits, we apply spot treatments, liquid barrier applications, general pest management, and targeted control as needed. This may be all you need to address your pest concerns and prevent pests from entering again. But some businesses require more care and specialized services. We work with you to find the right commercial pest control solution for your industry and for your unique needs. Our commercial pest control service technicians are trained and experienced pest management professionals. We'll make sure you have what you need to meet all regulatory standards and keep your business running as planned.
Along with a professional service plan, there are many pest prevention measures you can take to further increase the effectiveness of your pest control. Your technician will share these with you after routine inspections. We may suggest:
Storing bagged trash in covered containers and keeping receptacles as clean as possible.
Replacing worn-out weatherstripping and door sweeps to make exterior doors weather tight and pest-proof.
Addressing conditions that provide ideal harborage or food options for general pests that enter your yard and explore your exterior.
Replacing exterior white lights with yellow lights to avoid attracting insects and reduce insect populations around your exterior.
Clearing out gutter obstructions such as soil and plant matter and repairing gutters so that rainwater is able to flow down and away from the exterior.
Replacing damaged or worn-out screens on doors and windows.
Pest control is a team effort. While we do most of the heavy-lifting, there are ways you can increase the effectiveness of your pest control and achieve pest-free interior environments.
Are you in Tampa? Navigate to our contact page and tell us which pests concern you. We'll get back to you quickly and share some advice to help you zero in on the best solution for your home. We provide many services to address common pests in our Tampa Bay service area. We have the right solution for the pests you want to control. Connect with us today.