Anyone with a pet understands the joy and frustration of having an animal in the house. A cute and cuddly dog or cat provides company and companionship; when your furry friend arrives at the home, there is a breaking-in period. Cats love to climb on drapes and sharpen their nails on furniture, and dogs enjoy chewing shoes and furniture. The excitement of a new pet can quickly disappear as it tears your home apart.
The days of destruction are short-lived, but sometimes the animal doesn't learn, and the homeowner has to find a new home for it because our homes and furnishings are too expensive to be ruined by an animal. Dogs and cats can usually be housebroken after a few weeks, but termites cannot be tamed, will destroy your hard-earned investment, and are not cuddly.
One cannot play with termites, teach them tricks, or take them for a walk, but with the help of the best pest control in Tampa from EcoTech Pest Control Services, you can eliminate them. Our Green Pro Specialists have removed termites from homes using environmentally safe products for almost a decade.
Our goal is to serve our community by providing top-rated customer service, highly-trained specialists, and education. The following information will help you understand termites so you can win the war against termites and make informed decisions about how to eradicate them.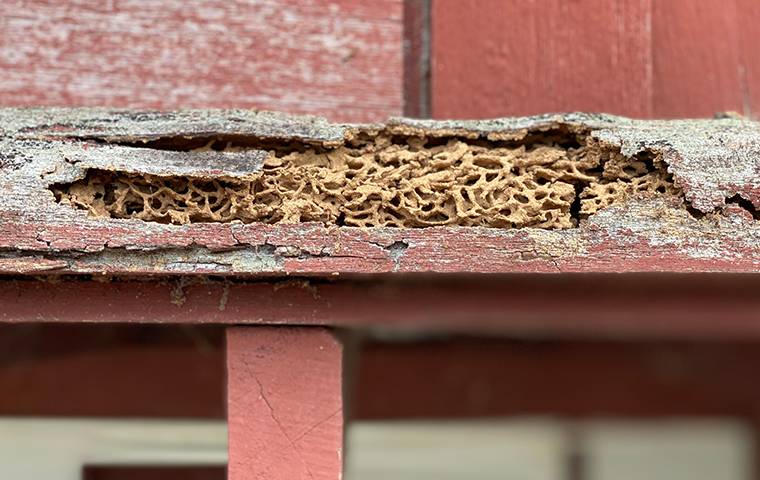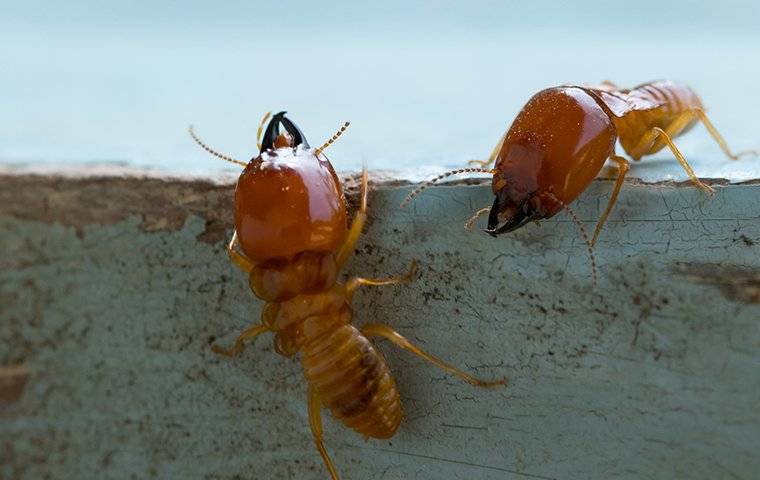 The Types Of Termites That Infest Tampa Homes
Before we discuss the two types of termites in Tampa homes, it is best to understand termite basics. Termites are insects, and like all insects, they have a body with three segments (head, thorax, abdomen), three pairs of jointed legs, and antennae, may or may not have wings, and they live in colonies.
Ants are bugs that look like termites, so when people see creamy-white termites, they assume they have ants around the house. How do you know if you have termites or ants? The easiest way to distinguish between the two species is the body. Ants are related to wasps and have a pinched waist, but termites are cousins to cockroaches and do not have a pinched midsection but rather a long, narrow body.
The two termite species invading many Tampa homes are subterranean termites and drywood termites. Subterranean termites have creamy-white to dark brown 1/8-inch long, narrow bodies, live in the soil, and travel to their food source under the protection provided by mud tubes along the foundation of a house or tree stump. As their name suggests, subterranean termites live below the ground in the dirt, not in the wood.
The prime target for subterranean termites is fungus-ridden, rotting wood in poorly drained areas. The odor from the fungus attracts the termites because the fungus provides them with nitrogen. Tree stumps, buried lumber, rotting fence posts, water-logged landscape timbers, and wood in damp crawl spaces are potential homes for subterranean termites.
Subterranean termites are social insects that create large nests; a caste system consisting of a queen, king, workers, soldiers, and winged reproductive termites maintains order and provides for the colony's needs. Nests begin when a swarm of termites flies from a nearby group, and a king and queen land finds a new, suitable location. The growth of the new nest is slow for the first few years, but once the queen matures, she lays up to 1,000 eggs a day; after about five to ten years, a colony of subterranean termites reaches a maturity of 60,000 to over 1 million termites.
Florida is home to an imported subspecies of subterranean termites known as Formosan termites. These aggressive termites infest utility poles, landscaping timbers, boats, and trusses, and, unlike their subterranean cousins, attack living trees and shrubs; they also eat through telephone and electrical insulation and cause power outages.
Over 70,000 Formosan termites may be in a single spring swarm traveling along air currents looking for new nesting locations. When they find a suitable area, the king and queen lose their wings and begin reproducing; within a few years, a mature Formosan termite colony consists of 350,000 to millions.
Drywood termites eat wood, like subterranean termites, but they do not live in the soil; therefore, you find this termite species in the attic, window frames, door frames, picture frames, and wood furniture. Body size is another differentiator between drywood and subterranean termites. Drywood termites have a 3/8 to 1-inch long body ranging from creamy white to light brown. Both species are social insects, but a drywood termite colony has only 2,500 members.
EcoTech Pest Control Services is the best termite company near you. Our Green Pro Specialist will determine the termite species infesting your house when he inspects your Tampa home.
If the infestation is from drywood termites, we will eliminate them with a liquid spot treatment if it is isolated; if the invasion is widespread, we will use a vault or home tent fumigation. When the damage is from subterranean termites, we implement Termidor HE to eliminate the termites and create a barrier around the house. If necessary, we install the Trelona® ATBS Termite Baiting Systems to allure termites and infect them with a product that destroys the nest when they return.
How Quickly Can Termites Destroy A House?
Termites inflict over $5 billion in damages annually in homes across the United States. Subterranean termites are responsible for a high proportion of the harm due to the size of their nests. For example, a mature nest of 60,000 subterranean termites can consume five grams daily or about 2.3 feet of a 2x4 annually, but Formosan termites are the worst.
Formosan termites, also known as "super termites," are aggressive and construct massive colonies of millions of workers. A mature Formosan nest consisting of hundreds of thousands of workers, daily eating 31 grams of cellulose, may consume a foot of a wooden 2x4 in 25 days. This termite species is so problematic that they account for 25% of the termite infestations in Florida.
Unless you witness a swarm of reproductive termites in the spring, you won't physically see these silent destroyers invading your Tampa house, but they leave the following signs of termites in the home:
Sagging floors or ceilings
Crackling sounds when walking on floors
Patches of wood discoloration
Crumbling wood
Pinholes in wood or drywall
Blistering paint, wallpaper, and wood
Collapsing structures
Discarded wings in window sills and spiderwebs
Hollow-sounding wood when tapped
Mud tubes on the sides of the house
Sawdust-like piles outside pinholes in wood
Subterranean termites use their sawtooth-like mandibles to cut along the grain, and drywood termites eat across the wood grains. Termites are not like carpenter ants that excavate wood to create nests; they eat the wood as they bore through it.
When you notice indications of a termite infestation in your home, you may already have significant damage that will cost thousands in repair and replacement costs. Structural damage by termites often requires the services of a local contractor since it involves beams and flooring in the house. EcoTech Pest Control Services, your local termite company, will save you money by killing the termites and preventing future infestations.
Natural Termite Prevention Tips For Around The Home
Maximizing the benefits of termite pest control in Tampa from EcoTech Pest Control Services requires taking these prevention steps:
Remove dead trees and wood debris from the property.
Replace rotting fence posts and landscaping timbers.
Move firewood 20 feet from the house and elevate it.
Create a barrier between any wood and soil.
Provide proper drainage away from the basement or crawl space.
Dehumidify the crawl space, attic, and basement to prevent moist, soft wood.
Prune shrubs and trees away from the house to allow maximum sunlight and airflow.
Seal cracks in the foundation and along the roof line with caulk.
These termite prevention tips will deter swarming termites from landing on your property or migrating inside your house. The implementation of these tips, combined with the treatments from EcoTech Pest Control Services, ensures a termite-free home and long-term savings from high termite repair bills.
The Most Effective Termite Control For Tampa Homes
At EcoTech Pest Control Services, we take termite infestations seriously. We do not charge for our inspections because we understand the severity of a termite infestation. When our Green Pro Specialists arrive at your Tampa home, they will thoroughly inspect your house from top to bottom to determine the termite species, hot spots, entry points, and attractions.
Our specialist will create a custom treatment plan to eliminate the current termite population and future generations using the appropriate treatment for the termites infesting your home. We will not only stop the current termite problem but will work to prevent a future issue by creating a barrier around your house. Whether we use a liquid spot treatment, fumigation, or bait stations, we provide a one-year renewable warranty. We also offer an Annual Termite Protection Plan.
EcoTech Pest Control Services provides high-quality, effective termite service near your home. Contact us today to learn more and schedule your free inspection.