Comprehensive Pest Control In Progress Village. FL
Progress Village is a small community that's located miles from the western coast of Florida, so residents have easy water access along with a quaint pace of daily life. There are well-regarded public schools here along with safe neighborhoods, a variety of industries, and manicured parks for all to enjoy. Residents of Progress Village also benefit from close proximity to Tampa, where excitement is just moments away. There are, however, many opportunities for pest problems to develop because of environmental conditions.
At EcoTech Pest Control Services, we know how difficult local pests are to prevent and eliminate, which is why we provide comprehensive pest control in Progress Village. Since 2013, we have been customizing our services to our customers' exact needs by abiding by Integrated Pest Management methods, providing preventive maintenance, and using eco-friendly, low-impact products in order to create lasting relief. For more information on our services and to schedule your no-cost, no-obligation consultation, please call us today.
Residential Pest Control In Progress Village
A pest problem can be very dangerous for your home, which is why at EcoTech Pest Control Services, we provide pest control in Progress Village for homeowners who need it. We are focused on eco-friendly services that create reliable, long-lasting results. Our entire company is both QualityPro and GreenPro certified so that we can provide the safest pest control around. We adhere to Integrated Pest Management methods and provide strict attention to detail in order to create a healthy living environment and deliver a 100% satisfaction guarantee.
From our meticulous property inspections to the variety of treatments we provide, you will always have someone on your side when it comes to pests. To learn more about our residential pest control services in Progress Village, please call us today.
Five Ways You Could Be Wrong About Progress Village Bed Bugs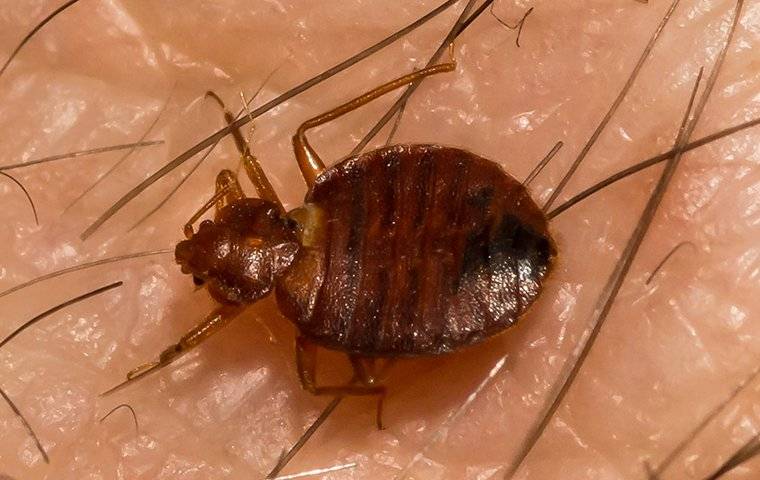 Though bed bugs are a very common problem for Progress Village residents, there are five ways that you might be wrong about them. Those ways include:
If I had bed bugs, I would know about them.
There's no way that I can start a bed bug infestation in my own home.
Bed bugs aren't harmful to my health.
There are no issues that can come from having a bed bug problem.
I can get rid of bed bugs on my own.
Unfortunately, most people who encounter bed bug infestations don't actually know that they have them because they are nocturnal and they live in places that people can't reach. It's also very easy for you to bring bed bugs into your home any time you're in public. While they aren't considered a significant health risk, bed bugs do feed off of your blood and you may endure some allergic reactions as a side effect. Bed bugs are also prey for red imported fire ants, centipedes, and cockroaches, so other pest problems can arise from these infestations. Bed bugs are notoriously difficult to eradicate, so the most reliable form of bed bug control in Progress Village from EcoTech Pest Control Services.
Professional Advice On Mosquito Control For Your Progress Village Home
Mosquito problems arise around Progress Village homes like yours when conditions are at their warmest and most humid. When it comes to limiting their presence, local pest control experts recommend the following tips:
Scale back hedges, lawns, and harborage areas to reduce shade in your yard. You'll also want to tidy up your yard by getting rid of leaf piles and other natural clutter.
Turn over water in pet bowls, bird baths, and outdoor pools regularly. It's also important to make sure that water doesn't puddle in grill covers and kids' toys.
Try to make yourself unappealing to mosquitoes by staying away from scented hygiene products and perfume, opting for light-colored clothing, trying not to sweat, and staying indoors during dusk and dawn.
Consider planting citronella, lavender, marigolds, rosemary, thyme, and basil in a garden.
Contact your local pest control professional for seasonal treatments to eliminate mosquito populations and keep future ones from developing.
For more information on mosquito control in Progress Village, call EcoTech Pest Control Services today.
Commercial Pest Control In Progress Village
At EcoTech Pest Control Services, we know just how problematic pests can be for your place of business, which is why we provide guaranteed Progress Village pest control. Our company holds GreenPro and QualityPro certifications, which means that we abide by the strictest safety standards. We work tirelessly to protect your reputation and integrity through our discreet and eco-conscious services.
Our entire process of pest control is based on the principles of Integrated Pest Management, which means that we focus on structural modifications and habit changes, using products only where they're necessary. This system allows us to customize each program that we develop, so that we can treat the exact issues that you face and adapt our services when needed. We also guarantee all of our work so that your business never has to suffer from pests again. For more information on the benefits of commercial pest control in Progress Village, please call us today.