Professional Pest Solutions For Land O' Lakes, FL Properties
Hidden along the glossy shores of Conner Preserve, Cypress Creek Preserve, and the famous Dupree Gardens, Land O' Lakes, Florida is one of the most beautiful and water-laden areas in all of Pasco County. This stunning location is filled with a variety of flora and fauna types, including unique birds, swamp plants, and tiny reptiles. Only a stones' throw away from Tampa, St. Petersburg, and Clearwater, there is always a wealth of things to see and do in this polished community. Enjoy some relaxing walks by the lake, visit a beach or two, or sit inside one of this area's highly coveted garden spaces.
Agreeable air humidity, standing water, and warm temperatures make the Land O' Lakes area a sought-after tourist destination and a snowbird hot spot. However, this area of the Tampa metro-statistical area is also known for a high volume of pests as well! Biting mosquitoes, hunting bed bugs, and parasitical ticks are all on the prowl to take over your home, business, or property. Without the right kind of help, you may be jeopardizing your home, your family, and everything you have worked so hard to achieve.
That's why the folks at EcoTech Pest Control Services have made it their mission to help Land O' Lakes residents find, destroy, and prevent pest species of all kinds. We refuse to back down from the competition and offer only the best and brightest of our services to those in need. Whether you require some pest control treatments, investigations, quotes, or assistance, the Pasco County pest control professionals at EcoTech Pest Control Services is ready to help. Call today to set up your initial visit, or speak with a representative to learn more about your options.
Home Pest Control In Land O' Lakes, FL
Family residences around the Land O' Lakes area are bombarded by pest species of every make, type, and caliber. Some of the worst pest varieties from the homeowner's point of view include:
Mosquitoes: Packing a punch with every sip, mosquitoes cause both physical and medical problems for homeowners in our area. What's worse, our temperate climate and heavy rainfall contribute to an unusually high number of these pests in Florida.

Rodents: Rats and mice spread diseases around as though they were Christmas gifts. No home is safe from their wily ways, not even yours.

Cockroaches: Able to crawl, sprint, or fly their way into your house, cockroaches contaminate food items and food prep surfaces at a moment's notice.
Pest species are easily able to be controlled through the Land O' Lakes residential pest control services of EcoTech Pest Control Services. Our vetted pest control products and unbelievably effective treatment programs rapidly resolve your pest issues without causing additional concerns. Reach out to the team today to discuss your options for residential pest control treatments, or refer to the information listed on our website.
Bed Bug Control Solutions For Land O' Lakes Homes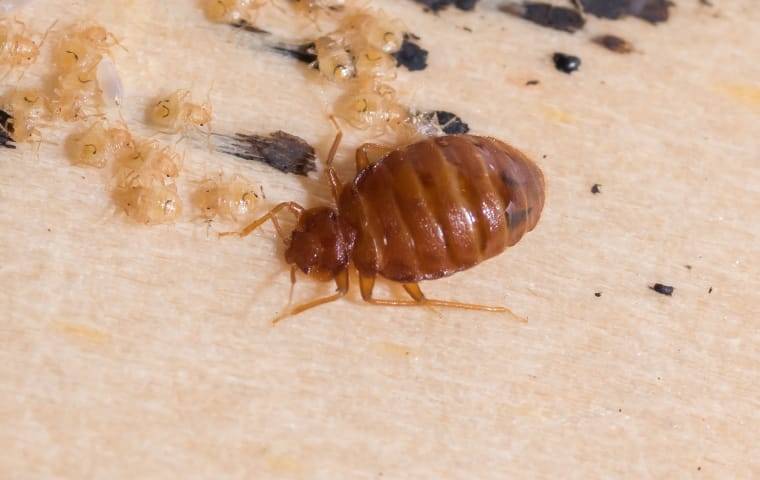 Over the years, bed bugs have become serious contenders for the worst possible invaders around Land O' Lakes homes. Not only do they spread itchy bites and unseemly stains on upholstery, but they often dissuade people from coming to visit your home as well. Here are a few ways to remedy this problem:
Wash all clothing on the highest setting after returning from a trip.

Do not store luggage on the ground while traveling.

Have your home treated right away.
Let EcoTech Pest Control Services help you reclaim your property now with effective bed bug control in Land O' Lakes.
What Attracts Fleas And Ticks To Land O' Lakes Yards?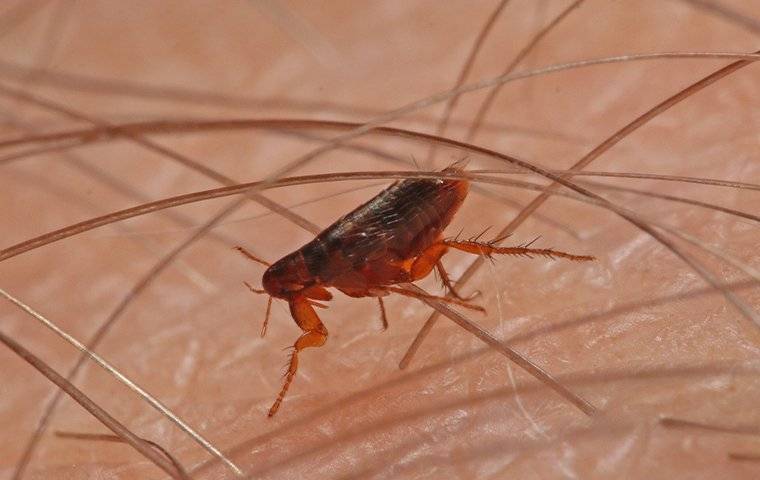 Commercial Pest Control In Land O' Lakes, FL
Your commercial property may not have experienced a pest problem in the past, but that certainly won't prevent the situation from becoming reality. Pests like bed bugs, roaches, fleas, and ticks can choose to take over your property in the blink of an eye, fundamentally affecting your daily workflow. Employees may be subjected to hostile or dangerous conditions. Customers may not feel safe or welcomed shopping in your store. Worst of all, a pest presence is one of the number one ways to lose credibility, revenue, and a clean bill of operations from your health inspector.
Here's how EcoTech Pest Control Services keeps your commercial building safe:
We begin each service with an initial pest inspection. This helps us to create a clearer picture of your problem.

We apply treatments as necessary, incorporating the use of Integrated Pest Management services, as well as sprays or baits.

We follow up our services with you to ensure that everything has gone according to plan.
Don't leave your success up to chance. Invest in your future using the commercial pest control services in Land O' Lakes from the professionals at EcoTech Pest Control Services.