Are The Spiders In My Tampa Bay Home Dangerous?
October 15, 2021
If you see a spider hanging in front of a window, crawling across the floor, or lurking in your shower, chances are it's not dangerous. However, here in Tampa Bay, we have two spider species that prove more threatening than others: The black widow and the brown recluse.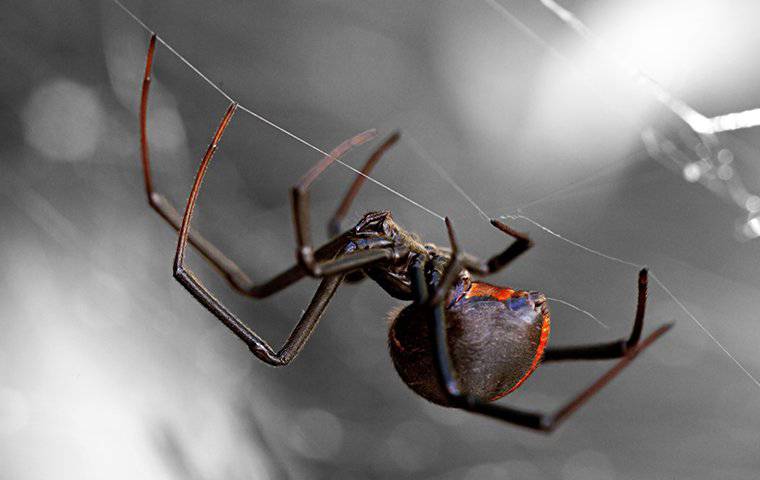 A Black Widow In Your Tampa Bay Home
Black widows are scattered throughout North America, particularly in southern and western parts of the United States. They are notorious for their venomous bite. One bite can prove lethal. Once the black widow spider injects its neurotoxic venom into your body, symptoms quickly follow. You should seek immediate medical attention if you believe a black widow has bitten you. Though bites are rare, black widow prevention and control are critical to your and your family's safety.
Black widows prefer to hide in dark corners of your home and build messy, irregular-shaped webs. Female black widow spiders are larger than males. They have a red hourglass on their abdomens and can reach 1 3/8 inches long. A male, on the other hand, is half the size and all black in color.
A Black Widow Bite
A black widow bite can cause moderate to severe symptoms. Irrespective of the severity of these symptoms, you should seek medical attention if you believe you've been bitten. A black widow bite can lead to the following symptoms:
A rash or irritated skin
A burning sensation
Pain radiating throughout the body
A reddish or purplish colored blister
Shortness of breath
Cramping
Nausea and vomiting
Fever
Chills
Headache
High blood pressure
Anxiety or restlessness
Sweating
Black widows are not aggressive. They don't hunt for humans to bite. Black widow spiders usually bite if they feel threatened. They conceal themselves under unused blankets, under stones, in piles of debris, inside shoes, and generally in dark, inconspicuous areas. Your hand can easily come into contact with a black widow while rummaging through storage items. Thus, always wear gloves when handling stored items.
Black widow bites are rare and typically don't result in hospitalization. During your trip to the emergency room, you can take the following steps to assuage the bite:
Wash the bite with soap and water.
Cover the bite with an ice pack.
You should try to elevate the area. If you were bitten on your arm, raise your arm over your head.
A Brown Recluse In Your Tampa Bay Home
Brown recluse spiders are mainly located in southern parts of the United States, but they may very well invade your Tampa Bay home. The most prominent characteristic of a brown recluse is a violin-shaped marking on the back of the spider. This mark gives them the name fiddle-back spider. Brown recluses are smaller than black widows and measure between 1/4 to 1/2 of an inch.
Brown recluse spiders are hunters, so the disorganized webs they build aren't intended to catch prey. Like black widows, brown recluse spiders hide in inconspicuous areas of your home. They may hide in a shoe or in a stored box. They gravitate toward dark, dry areas.
A Brown Recluse Bite
The initial bite typically leads to mild pain, ranging from a pinch to a stinging sensation. Often a person is unaware they've been bitten until three to eight hours after the incident. You may notice certain symptoms at the site of the bite. These symptoms can include redness, a purplish center, and swelling. Throughout your body, you may experience chills, fever, nausea, joint pain, and weakness. If you believe you've been bitten, cover the bite with an ice pack.
Most brown recluse spider bites heal within three weeks without medical attention, though severe reactions can occur in rare cases. Severe reactions are more common in children and the elderly. These reactions can manifest as a persisting ulcer. Chills, dizziness, and fever can intimate a severe reaction. Such reactions can be fatal.
Like black widows, brown recluses are not aggressive. However, you can easily come into contact with a brown recluse spider while dealing with boxes or other storage items. Therefore, you should always handle stored items with caution and wear gloves.
Call EchoTech Pest Control Services
If you are currently plagued by a brown recluse or black widow infestation, we encourage you to contact us at EchoTech Pest Control Services. If you live in the Tampa Bay area, give us at EchoTech Pest Control Services a call! We can help eliminate dangerous and nuisance spiders from your home along with the pest prey they hunt. Reach out to us today to learn more about our one-time or recurring pest control options!
Previous
Next